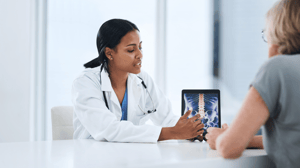 How Spinal Kinetics Works
Swift Analysis, Accelerated Recovery
With one spinal diagnostic test, you can accurately pinpoint the source of injury, eliminate treatment bias and generate favorable patient outcomes. You can even onboard in less than one day and immediately begin implementing this diagnostic test with your next presenting injured patients.
Spinal Kinetics makes it as easy as
1-2-3:
Step 1 - Sign Up

Complete this

registration form

or call 877-508-9729 to have your questions answered by a service consultant. You'll receive a welcome kit and can schedule your onboarding call.

Step 2 - Upload Paperwork and
X-ray imaging

Install your Secure File Transfer folder during your Onboarding call and upload the needed paperwork and X-ray images. The Spinal Kinetics team will train you on exactly what's needed for accurate results… and you'll be glad to know that all you need is the imaging you're already ordering.

Step 3 - Use Results to Properly Treat

In less than 24 hours you'll receive an objective, board-certified (licensed in your state) radiologist-reviewed study that identifies exactly where the injury is. This study report is easy to understand, provides superior documentation that withstands attorney and insurance carrier scrutiny. But, best of all, you get the insight you need to effectively target treatment and improve patient recovery.